I mentioned attending a writing conference in my previous post and I didn't want to wait to talk about it or the importance of attending writing conferences. I seriously came out of that writing contest feeling like my head was about to explode from all the knowledge and insights I had gained about writing. I also simultaneously wanted to burn all my previous writing and use it to practice the tips and techniques I had learned.
Mostly, I just wanted to hide somewhere dark and warm and let all the knowledge sink in. But I have a life, so that isn't an option.
Before I get into the conference that I personally attended, I want to get into the three main reasons why attending conferences are so beneficial, even to the newest and greenest of writers.
1) The wealth of knowledge: Writing conferences are filled with people who are so much more experienced: in both the writing and publishing of a book. Conferences invite agents, authors, publishing representatives–even college writing professors–to teach classes on all aspects of the writing world. Character development, conflict, query letters, pitching, first chapters, editing your manuscript. The list goes on and on. Anything and everything you could ever want to know about writing a book, querying, editing, you name it. And no matter what level of writer you are, there's going to be a few classes that will speak to your skill level or stage in the writing process.
2) Networking: As I said before, conferences invite agents, authors, publishing representatives and many other publishing world big to-dos. These people are here to impart their knowledge to you. Some of them are present to hear pitches and pick up prospective clients (re: authors!). If you're up for it, don't be afraid to take a chance and pitch your book. I did at my first conference and had my first 30 pages requested. It was rejected after that stage, but I relished the experience and was inspired by the thoughtful response I received even if it was a rejection. However, official pitch sessions aren't the only times you'll have a chance to talk to agents. They might be eating lunch with you, or attending classes. I've heard stories from fellow authors of giving a pitch over a meal or at some type of get to you know you gathering (if the conference offers those). Take the opportunities you're given, because you never know when they will turn into something more!
3) Meeting fellow aspiring authors: There is a certain energy that comes with being around other men and women who are aspiring to be a writer just like you. They can share in your joys and your failures, your triumphs and your downfalls and then help to keep you going no matter which you are going through. They understand all the lows and highs of being a writer and they really are as interested in hearing about your book as they are in telling you about their own.
Each conference is unique and I've only been to the same conference twice, but loved it both times. There are other conferences I'm interested in attending, but for now let me just focus on the American Night Writer's Association Time Out for Writers held every February.
I have to say my favorite part of this conference was definitely all the amazing classes I attended. There were too many amazing seminars to pick just one as my favorite. I learned about crafting a can't-put-me-down first chapter from agent Lara Perkins of the Andrea Brown Literary Agency. I learned about world building (so important for a fantasy writer like me) from internationally best selling author Aprilynne Pike. I learned about writing plot moving dialogue from Erszi Deak of the Hen and Ink Literary Studio. I could go on and on and on, there were so many great classes. I'm glad I took excellent notes.
My second favorite part was the conference's Keynote Speaker, James A. Owen. Please don't judge me when I say that I had no idea who he was before this conference (author of Here There Be Dragons and it's sequels and the inspirational book Drawing Out the Dragons, fyi). But after hearing him speak, I am so amazed by this man that I kind of need to buy his books and read them. And now I'm a little mad at myself for not buying at least the first of his Here There Be Dragons series at the conference because he not only signs his books, but draws a dragon in each. But more importantly, the man is the living epitome of overcoming any obstacle to achieve your dreams. I think his best advice to writers is to stop doubting yourself and to start advertising your talent for the greatness that it is. Because if you believe in it, then other people will. I don't say it as eloquently as he does, but I hope you get the gist.
The conference also held a "Protagonists Ball" at the request of James Owen and it was a blast. Everybody dressed up as their favorite protagonists and it was so much fun figuring out who everybody was or learning about protagonists I'd never heard of before. Plus they were all great ice breakers for meeting new people. Here I am as Katniss Everdeen: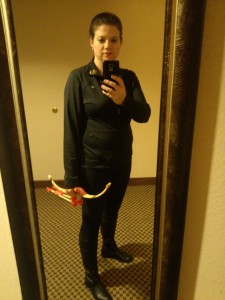 Finally, I can't help but mention that my entry in the Speculative Fiction category for the BOB  (Beginning of Book) Contest tied for third place. It really was the crowning moment of an already amazing conference and I think I'm allowed to brag one more time for such an achievement. In fact, here's a picture of me holding my certificate with another writer friend who won the grand prize for one of her submissions.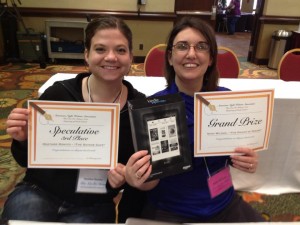 I hope you get a chance to attend a writing conference. I was a little wary to go myself the first time (mostly because attending is not cheap), but I think the best way I heard it summed up was by an author on another blog (I wish I could remember the lady who said it to give credit where credit is due) who said to think of attending writing conferences as investing in your career. You may think that you are being financially smart by saving your money instead of going, but you are missing out on such a grand learning and growing opportunity as a writer. So make the sacrifice and try one out. I know you won't be disappointed.